Azzedine Alaia (April 2001)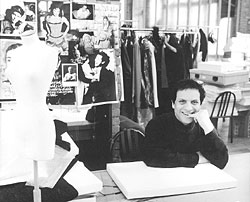 AFTER LAYING LOW FOR A SPELL, THE RULE-BREAKING CULT DESIGNER IS BACK IN A BIG, BIG WAY
I first met Azzedine Alaia in 1984, when I was hired by him as a model. Best-known for his skin-tight sculptural silhouettes, he is among the most influential designers of the last twenty years. He earned this reputation by being one of the last of the purists. He's also earned a reputation for being his own worst enemy, which stems at least in part from his reluctance to adhere to any show schedule or shipping obligation. He delivers a collection when he is ready, not when a schedule says he has to. This is a man who would rather destroy his own business than compromise his standards. And he has come dangerously close to letting it all go more than once, since he insists on personally constructing each prototype himself--from paper pattern to finished garment, including sewing--rather than relying on the help of design assistants. But because of this legendary insistence on perfection (and despite his refusal to follow traditional fashion schedules), he's remained a darling of retailers, editors, pop stars, and models.
Alaia's staying power is something that's become especially evident in the last few months--this fall he treated his fans to a new and much-anticipated collection (sales are reportedly brisk), as well as an exhibition of his work, presented by the Brant Foundation in New York's SoHo. A variety of things have contributed to this renaissance. For one, the current revival of '80s fashion means that Alaia, who helped define the sexy, aggressive-yet-feminine look of the decade, is a central reference point. Another factor is the recent announcement that Alaia and the Prada Group have reached a partnership agreement which seems to perfectly reflect what these two companies are all about: "to realize a program of common work" and to continue "the tradition of prestige and quality in the house of Alaia." The Prada Group, which owns Prada, Miu Miu, and Church's Shoes and has partnerships with Helmut Lang, Jil Sander, and Fendi, also plans to establish a Paris-based archive of Alaia's past and future works.
VW: I've been trying to get you on the phone for hours--where have you been?
AZZEDINE ALAIA: [laughs] I've been running all day.
VW: What's going on?
AA: Discussions, things, that's all. I couldn't even work on the clothes.
VW: Big business, eh?
AA: Exactly.
VW: It's one in the morning for you [in Paris], which I know is typically when you really get down to creating. I'm sure you must be working on something.
AA: Always.
VW: What are you doing for your next collection?
AA: Not much so far.
VW: So it's only a dream at this point?
AA: You're funny tonight--like a cop with a ton of questions... Are you taking notes or what?
VW: I'm recording you and I'm taking notes.
AA: OK, because I didn't hear you for a moment there. I was like, Where did she go? Is she making a lemon tart?
VW: No. not tonight. It's made already--I'm all yours. So tell me about your partnership with the Prada Group. I don't normally think of you as the kind of designer who would be anything other than totally independent.
AA: That's true, but it's different with Patrizio Bertelli [CEO of the Prada Group]. He's interesting for me because he understands how I need to work. And having his muscle behind us will make working easier.
VW: But sometimes even though a cash infusion can make things easier, it can also bring pressure.
AA: We all need pressure, though. If you don't have it, you don't move, you don't go the extra mile. Do you know what I mean?
VW: Yes, true. But the only real progress I've ever known you to care about was in terms of your technique as a designer.
AA: Yes, yes, yes.
VW:... Are you taking notes?
AA: No. Why would I take notes? I'm not the one writing. What, I'm going to write the article? This girl is out of her mind.
VW: [laughs] OK, but back to my question. Do you think designers need to have partners these days?
AA: Yes, it's necessary because now more than ever you need the muscle. It's good to have a partner. It's true for both [Jean Paul] Gaultier and me--we both came to a point where we had done all we could on our own. What the Prada Group offered me was totally interesting, you know. They haven't asked me to change how I work or to meet specific quotas or anything. They were interested in the way I work and think about things. Situations like that are rare.
VW: As a model I had the opportunity to see a lot of different designers at work, including you, and you work in a very special way. I never saw someone spend as much time on the actual creation of the clothes as you.
AA: That's the point, you know. I'm alone. We're one of the big names, and yet, we are a small house, as far as the number of employees go. But in terms of the work, it all has to get done.
VW: Yes. But you're strict with your vision.
AA: I ask a lot from myself. When I love, I do everything I can.
VW: In your case, it's almost obsessive.